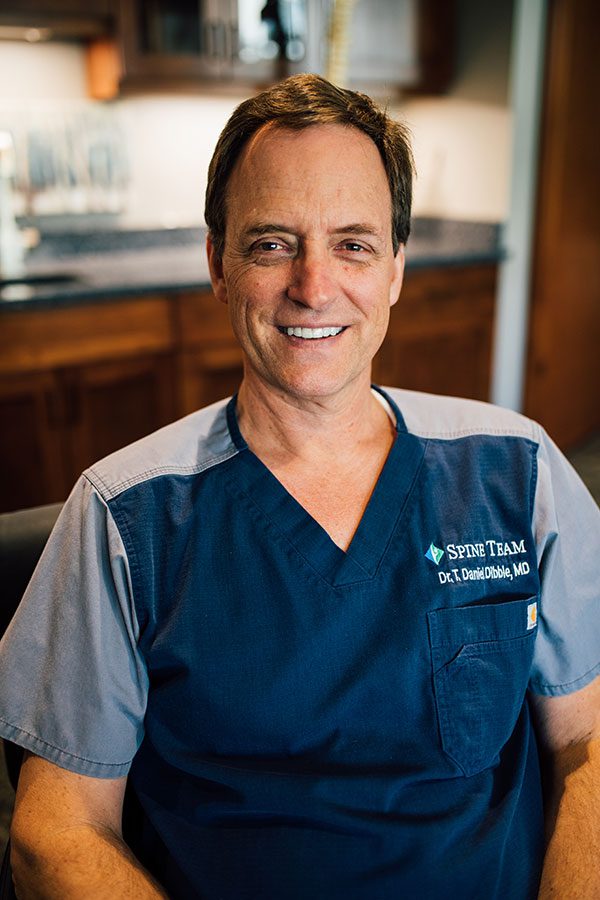 T. Daniel Dibble, MD, is an interventional spine/pain medicine physician specializing in interventional diagnostics and therapeutics for both acute and chronic conditions of the spine. He is board-certified in the specialties of pain medicine and anesthesiology. He is the founder of Spine Team Spokane.
Dr. Dibble is skilled in treating patients with occupational-related injuries, degenerative diseases, and musculoskeletal conditions. He believes strongly in the non-surgical team approach of SpineTeamSpokane and is often successful in returning patients to activity without surgery. He is highly proficient in performing fluoroscopically-guided spinal injections, radiofrequency lesioning, and neurodiagnostic testing.
Physicians from all over eastern Washington and northern Idaho refer their patients to Dr. Dibble for consultation and treatment. As an expert of spine-related pain, Dr. Dibble has given many lectures and presentations on non-surgical treatment options and the role of a multi-disciplinary approach in the management of acute and chronic pain. He participates as a provider mentor and lecturer for "COHE" Center of Occupational Health & Education), a part of the Occupational Health Services project with the Washington State Department of Labor & Industries and University of Washington Health Services Research Division.
Dr. Dibble has extensive training and experience. After receiving his Bachelors degree in chemistry at Whitman College in Walla Walla, Washington, he continued his education at the University of Washington Medical School in Seattle where he earned his doctorate of medicine in 1991. He proceeded to Portland, Oregon to complete an internship in internal medicine at Emanuel Hospital followed by his residency in anesthesiology at the Oregon Health Sciences Hospital.
He has served as medical director of St. Luke's Rehabilitation Institute Pain Clinic and as the chairman of anesthesiology at Sutter Merced Medical Center in Merced, California. He was founder of the Pain Diagnostics & Treatment Center in Spokane, Washington and of the Pain Management Clinic of Coeur d'Alene, Idaho.